Description of Targumatik Pro
You may already have heard about Larry Smith's TARGUMATIK (tm), the number one best-selling translation software that translates complete text from English to Hebrew and from Hebrew to English. It has sold thousands and thousands of copies in Israel and in the rest of the world.

This new version is called TARGUMATIK Pro for WINDOWS, and runs on all Windows systems from xp to Vista. It is a single program offering easy translation from English to Hebrew and from Hebrew to English.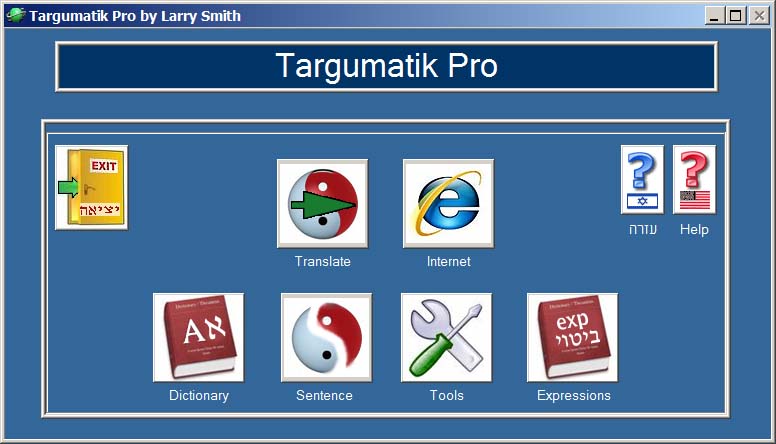 ---
Overview of Targumatik Pro for Windows:

Targumatik Pro for Windows is a very useful translation tool and time-saver because it speedily performs the mechanics of first draft translation, producing an understandable copy. Many translated sentences will need little, if any, modification, if you follow the rules and the suggestions outlined in the manual for writing the text that will be translated, such as using clear, simple and direct sentence structure and avoiding ambiguous phrases and words.

Targumatik for Windows should be considered a tool which, if sharpened and improved, will give you better and better service each time. You improve the program by adding words to its internal dictionary, expanding its vocabulary and translating capacity. The more words you add to its internal dictionary, the more useful the program becomes.

Targumatik for Windows is easy to learn and very simple to operate. No formal training is required.

Important: Please take note that Targumatik for Windows's Hebrew is modern, contemporary Hebrew, not Biblical or Talmudic Hebrew. Also, "nikud", (Hebrew vowels, or diacritics), is NOT supported.


---
Here are some highlights of Targumatik Pro for Windows:

1) Translates from the Internet while you are on-line (or off-line if you desire).
2) Translates any word processor files, such as Word for Windows or Dagesh.
3) Can translate single sentences that you type, without needing a word processor, if desired.
4) Option for INTERACTIVE translation, allowing you to participate in the translation process by selecting the best word when more than one is possible.
5) Bi-lingual Hebrew/English English/Hebrew dictionary with more than 100,000 words.
6) Dictionary of hundreds of expressions, such as "by the way", or "as a matter of fact".


---
Here are some uses for Targumatik Pro for Windows:

1) Translate articles from the Internet.
2) Translate personal or business letters from English to Hebrew (or vice versa).
3) Learn Hebrew or English by observing and interacting with the translation and using the reference tools.
4) Use the extensive bilingual dictionaries and verb tables that are included as an integral part of the program.
5) A great GIFT for anyone learning Hebrew (or English if you are Hebrew speaking).

Targumatik uses grammatical rules and advanced computer algorithms to give you fast, understandable translations. And you can customize it by adding an unlimited number of your own words and expressions!

NOTE: In order to edit any Hebrew translations, you will require an external Hebrew word processor (such as Dagesh or the Hebrew version of Microsoft Word, or Hebrew enable Windows). However, even if you don't have a Hebrew word processor and are not using Hebrew Windows, you can still use Targumatik, because it has a unique Hebrew typewriter included in the English Windows version, and if you use a Hebrew font (such as Elronet) in your Windows word processor, you will see the Hebrew in the word processor.